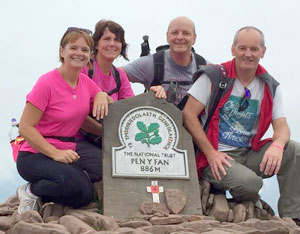 SCALING Wales's three highest peaks all in succession is nothing on the challenges Swansea hospital worker Wendy Casey has already had to endure.
The mother-of-two from Morriston was diagnosed with breast cancer just before her 50th birthday last year but thanks to timely treatment and the support of her friends and family, she is no on the road to recovery.
As a token of thanks Wendy, a chief pharmacy technician, will spend her 51st birthday weekend taking on the Welsh Three Peaks Challenge in aid of the breast care unit at Singleton Hospital.