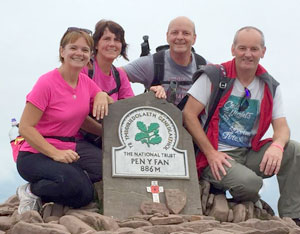 SCALING Wales's three highest peaks all in succession is nothing on the challenges Swansea hospital worker Wendy Casey has already had to endure.
The mother-of-two from Morriston was diagnosed with breast cancer just before her 50th birthday last year but thanks to timely treatment and the support of her friends and family, she is no on the road to recovery.
As a token of thanks Wendy, a chief pharmacy technician, will spend her 51st birthday weekend taking on the Welsh Three Peaks Challenge in aid of the breast care unit at Singleton Hospital.
Wendy, who works at Princess of Wales Hospital in Bridgend, was diagnosed in August last year. She will be joined by her husband Stephen, sister Maggie and and brother-in-law Martin when she ascends the peaks next month.
"I was lucky I found it early, so while I had to have a mastectomy I didn't need chemotherapy," said Wendy.
"The care and support I had from my family and friends still leaves me in awe and carried me through a difficult year, along with the physical and emotional treatment I received at the breast care unit.
"I'm okay now. I suffer from fatigue and I do get tired but apart from that I'm fine."
Wendy decided on the Welsh Three Peaks Challenge after her brother-in-law, outdoor pursuits enthusiast and ComcenAV Director Martin Casey, asked if she wanted to do something to help motivate her recovery.
"It is quite a big challenge but I've always been a walker and always maintained my fitness – I've run half-marathons in the past," said Wendy.
"Before I was diagnosed I'd walked Snowdon and I'd walked Pen Y Fan several times. I have done quite a bit of hill walking so it's not going to be such a big shock to the system."
Although this is traditionally carried out in one day, Wendy will not be up to that. So the team will ascend Snowdon and Cadair Idris in North Wales on her birthday, Saturday September 17, and Pen Y Fan in the Brecon Beacons the following day.
They have previously raised money for Maggie's Swansea, as Wendy attended the cancer charity centre during her recovery.
"But when we discussed which charity to support with the Welsh Three Peaks Challenge there was only one option for me, and that was the breast care unit at Singleton Hospital," she added.
"I have nothing but praise for all the staff there, for making me feel I was the most important patient during my many visits even though they see thousands of people ever year."My breast care nurses Heidi Handley and Ann Baker looked after all my needs with a great deal of empathy, understanding and humour, and continue to reassure me going forward."
To give your support please visit: www.justgiving.com/fundraising/wendy-casey