Product Supply
Comcen Computer Supplies
Comcen Computer Supplies is our e-Commerce site, www.comcen.co.uk. Within our store, you can find thousands of individual technology items and devices. We also offer nationwide next day delivery on all stocked items.
You can also speak to one of our AV experts who will be happy to provide a quote and advise on the best solution for you.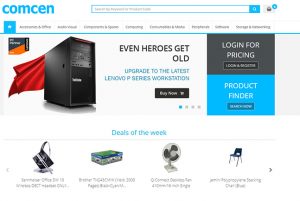 AV Solutions
Comcen have confidence that 'seeing is believing'. Furthermore, using some of the latest technologies first-hand to ensure the product is right for your organisation is essential. For this reason, we are able to demonstrate the benefits of various products. Plus, we can arrange an evaluation kit so that you can trial them within your current environment before you buy.
Most importantly, ComcenAV offers free technical support to all our customers.
With over 20 years of experience in designing, supplying and installing AV Systems; our team of experts can assist you with all aspects of Audio Visual. AV equipment that includes Commercial LCD and Plasma panels, digital signage, interactive whiteboards, interactive LCD's, networked storage, projection systems, public address systems smart device integration, video conferencing and much more.
Manufacturers and Suppliers
We appreciate in this day and age being able to source AV products is of paramount importance. Choosing the right equipment can ensure the effective and smooth running of all organisations. With this in mind, ComcenAV has formed close relationships with major manufacturers and are therefore in a prime position to advise on the latest products and developments. It is these relationships that allow us to pass on the benefits of special bid prices and full technical support to you. As a result, we are able to find the best solution for your organisation and budget.