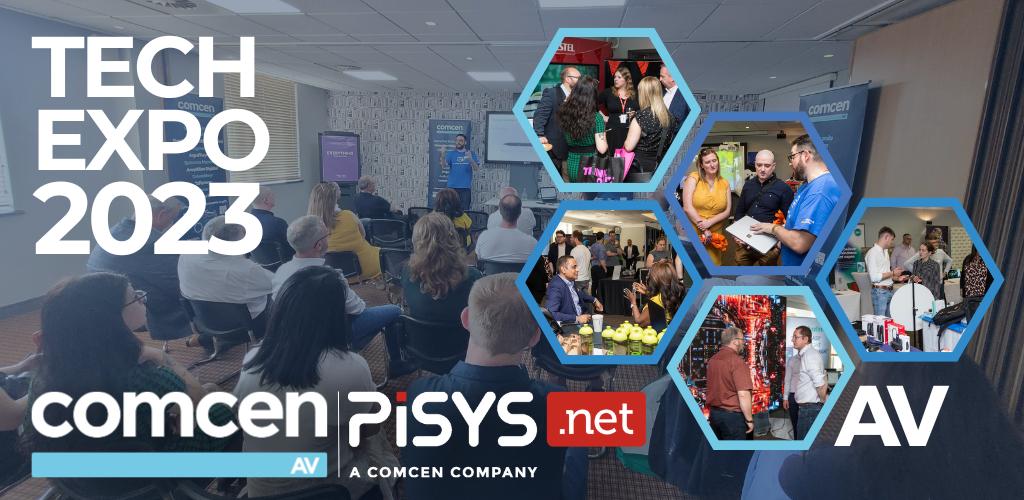 Comcen Pisys Tech Expo 2023 delivers a remarkable showcase of AV and Technology for Businesses
Celebrating Innovation, Collaboration, and Sustainable Solutions at the Comcen Pisys Tech Expo
The Comcen Pisys Tech Expo, a highly anticipated event showcasing cutting-edge AV and technology solutions for businesses, concluded with great success. The expo brought together renowned manufacturers, industry experts, and valued customers, creating an atmosphere of innovation, collaboration, and knowledge sharing.
Swansea, UK – The highly anticipated Comcen Pisys Tech Expo, a premier event showcasing the latest in Audio Visual (AV) technology for businesses, took place on May 25th 2023, with resounding success. The expo brought together industry-leading manufacturers, technology enthusiasts, and valued customers from various sectors for a day filled with innovation and networking opportunities.
Among the esteemed manufacturers that exhibited their cutting-edge products were Microsoft, LG, Yealink, Lenovo, Datto, VESTEL, EPSON, CTOUCH and TrilbyTV, ACER, Origin Solutions, AVer, Top-Tec, UAG, ScreenBeam and Trust. These companies showcased a wide range of technology and AV solutions, including interactive displays, video conferencing systems, and sustainable peripherals, captivating attendees with their technological prowess.
Edd Dale, representative of Microsoft and Illuminate-Learning, expressed his gratitude, saying, "Many thanks for a fantastic event. We really enjoyed it. Thanks for having Microsoft there, Comcen did an awesome job of pulling everything together! A great time was had by all!"
Chris Godsalve, Country Manager UK&I at Yealink, emphasised the value of the partnership with Comcen, stating, "We highly value our partnership with Comcen and eagerly look forward to supporting your business in delivering value and enhancing user experience for all."
The expo featured engaging tech talks and presentations, providing attendees with valuable insights into the latest industry trends and innovations. Industry experts delivered informative sessions on topics such as Windows11, cybersecurity, sustainability, and the future of AV technology.
The event also received praise from the customers who attended. Carmarthen County Council described it as a "brilliant event, well supported and well organised," while Junior Lawyers Division expressed their enthusiasm, stating, "Lovely afternoon today at Comcen Pisys Tech Expo. Thank you for incredible hospitality!"
Dave Matthews, the Group Managing Director of Comcen, expressed his gratitude to attendees and exhibitors, saying, "A fantastic event yesterday, it was great to meet our valued customers across public and corporate sectors, meeting old friends and making new ones. Thank you to all our suppliers for attending; you certainly did Comcen and your own companies justice."
With an array of groundbreaking products, informative sessions, and positive feedback from customers, the Comcen Pisys Tech Expo solidified its position as a leading platform for showcasing AV technology for businesses. The event not only fostered knowledge sharing and networking but also highlighted the commitment of industry players towards sustainable and innovative solutions.
We were thrilled to collaborate with our sister company, Pisys, as it showcased our combined expertise in providing comprehensive solutions. Together, Comcen and Pisys offer a unique blend of hardware, software, audiovisual solutions, IT support, and cybersecurity services.
We firmly believe in the importance of a wrap-around service, as it reflects our genuine care for our customers. Your satisfaction is our priority. For those who attended take a moment to browse through the event pictures below and participate in our survey. Your feedback will greatly contribute to making our future events even more remarkable.
For those who missed the expo, Comcen still offers event deals and encourages interested individuals to reach out for more information. The success of this year's expo sets high expectations for future editions, further cementing its reputation as a must-attend event for businesses seeking the latest advancements in AV technology.
For further information or enquires, please contact Comcen AV on 01792 515504 or email av@comcen.co.uk.